Enterprise businesses face unique challenges when it comes to Search Engine Optimization (SEO).
With complex websites and numerous products or services to promote, optimizing an enterprise site for search engines can seem like a daunting task.
However, with the right approach and tools, SEO for Enterprise can be a powerful tool for driving organic traffic, increasing brand visibility and boosting revenue for enterprise companies.
So if you want to learn more about keyword research, link building, organic search visibility, website performance for Enterprise SEO, then stay tuned!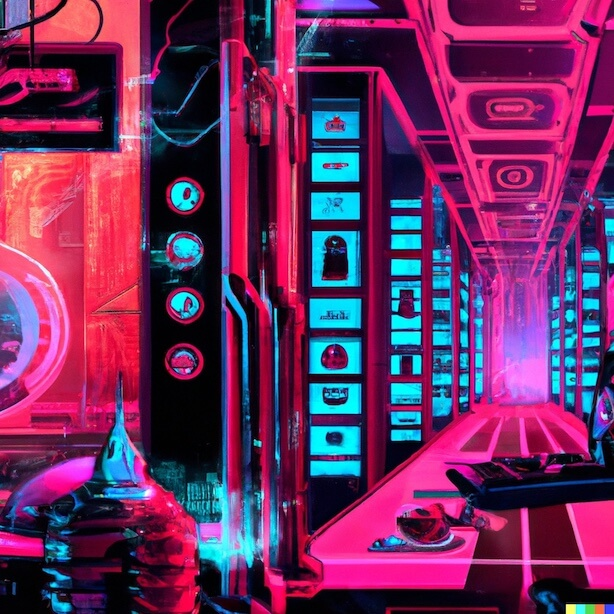 What is Enterprise SEO Strategy and How It Differs From Traditional SEO
Businesses of all sizes need to understand the importance of Search Engine Optimization (SEO) for their websites. Enterprise SEO Strategies are long-term solutions tailored to meet the needs and goals of large, enterprise-level companies.
With enterprise SEO strategies, an enterprise company can expect to see a significant increase in organic website traffic from their target audience.
Additionally, a successful enterprise SEO effort will often result in higher search engine rankings, leading to increased brand visibility and more sales for enterprise brands.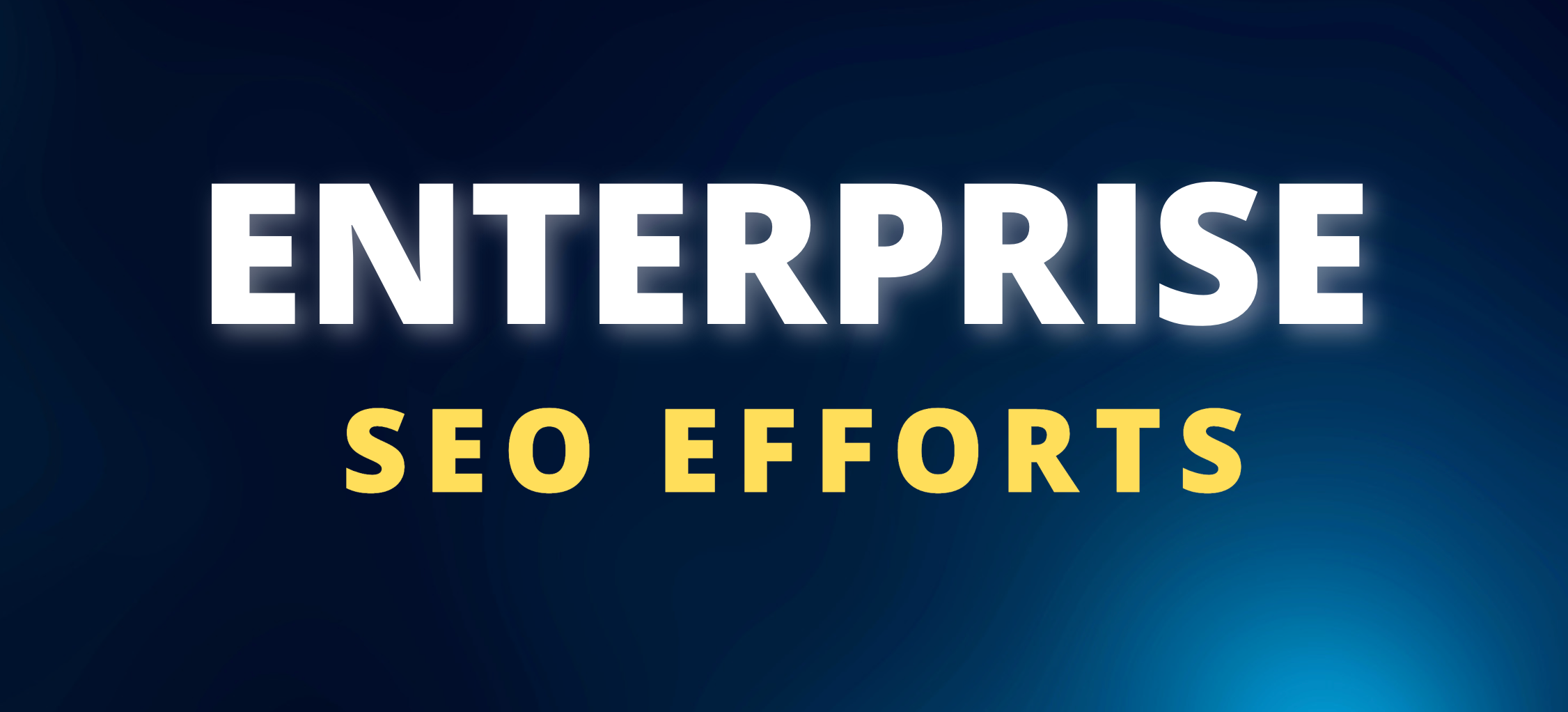 Enterprise SEO Efforts
Effective enterprise SEO is based on efficient project management by enterprise SEO teams that are great at creating SEO campaigns that target keywords with the correct search intent corresponding to their respective difficulty against existing competition.
Enterprise SEO involves
creating quality content that answers user queries while incorporating targeted keywords into page titles and meta descriptions when appropriate;
using dedicated enterprise SEO platforms which have a larger database and more crawl credit that can be used for bigger enterprise sites;
building links with other websites to increase domain authority and justify rankings;
analyzing competitor's efforts and devising your own strategy;
utilizing Google Analytics and Google Search Console for data analysis and SEO campaign planning;
engaging in ongoing technical site diagnostics;
making sure all internal links are relevant, have a correct anchor text and help with goal completion;
auditing your website on a regular basis for any changes or problems that could be causing issues with search visibility or performance in organic searches;
track your rankings on a daily basis so you're always up-to-date with what's going on with your site's visibility offsite for better results.
Most importantly, your long term plan should involve placing priority on making sure you're creating quality content across thousands (or possibly even millions) of pages for all core lines of service or product offerings that fits in within the overall scope of your online marketing campaigns.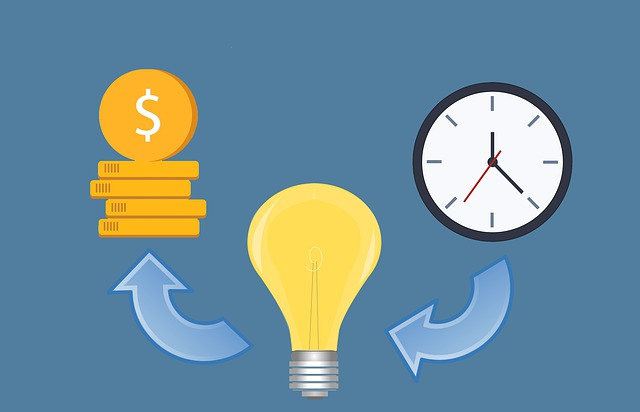 Key Benefits of Enterprise SEO
With an effective enterprise SEO strategy, businesses can benefit substantially from higher keyword rankings and increased traffic from target audiences.
The most prominent advantages of utilizing enterprise SEO include:
Enterprise SEO strategies focus on improving the visibility of large enterprise websites in search engine results pages (SERPs). This is done by optimizing every web page for target keywords that are relevant to the business. Such optimization helps increase the site's rankings for relevant keywords, making it easier for customers to discover your content.
Enterprise SEO optimization helps deliver more traffic to an organization's website by promoting its content through both on-page tactics such as adding comprehensive metadata and schema data as well as off-page tactics. With more visitors discovering content via SERPs, more opportunities emerge for website visitors and potential customers alike.
Reduced Spending on Paid Organic Marketing
One of the main advantages of implementing an effective enterprise SEO strategy is that it requires less money than traditional paid organic marketing methods such as sponsored links or display ads. This promotes better budget allocation, allowing small businesses with limited resources to still benefit from higher organic search visibility without forsaking too much money due to costly traditional marketing efforts.
A successful Enterprise SEO process will allow an organization to outrank its peers within their industry sector when it comes to providing useful web content with great search intent relevance that can be consumed by customers with ease.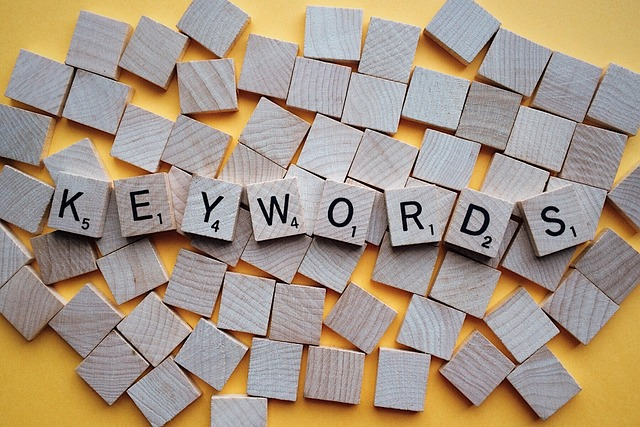 Keyword Research For Enterprise SEO
To create an effective enterprise SEO strategy, keyword research is essential. A thorough analysis of available data will help identify the most important online queries and target keywords related to a business's products and services.
SEO companies targeting enterprise level keywords should look into variations and underlying themes associated with these keywords to maximize the potential for search traffic.
To ensure maximum optimization, keyword selection should focus on niche topics that bring quality traffic from potential customers in a company's core market. Holding off on short tail keywords in the beginning phases might prove beneficial.
Additionally, companies should apply negative keyword filtering to eliminate irrelevant search phrases that could potentially cost money in bid placement or time optimizing against unwanted content if running paid ad campaigns alongside SEO.
Properly researched keywords will also provide valuable insight into direct competitor websites for backlinking opportunities and also highlight opportunities for content creation that may have been previously overlooked by organic competition.
All of this combined can lead to more targeted traffic and increased sales opportunities.

How To Implement Enterprise SEO Strategy
An enterprise SEO strategy is designed to support the optimization of large-scale search engine optimization (SEO) campaigns, making them a measurable ROI option for businesses.
Implementing enterprise SEO strategies can help organizations optimize their website, improving their visibility and traffic.
From auditing and optimization to reporting and market intelligence collection, effective enterprise SEO strategies need to meet a certain criteria to be useful.
The following considerations should be taken when planning an SEO strategy for enterprise clients: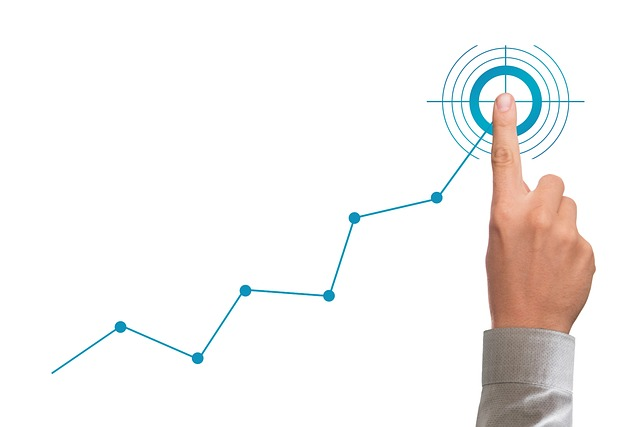 Set rational SEO objectives
Enterprise SEO should be tailored to an organization's core goals and objectives. It is important that the strategies developed are realistic and achievable in order to ensure success.
Measure & track
Data-driven decisions form the basis of effective campaigns. Enterprise SEO should include monitoring capabilities which collect data on areas such as key phrases, linking authority, competitor analysis and user behavior analysis in order be actionable.
Content marketing
Content forms the foundation of successful enterprise SEO campaigns; good content is not only informative but also optimized for end users and get picked up by publishers or influencers in the industry in order to boost visibility across multiple websites
Acquire Strong backlinks
Build backlinks from other influential sites provides search engines with an indication that your website is popular amongst searchers – increasing its relevance for targeted queries.
Maximize user experience
As user experience directly affects ranking factors, engaging elements such as page speed tests must be conducted regularly to ensure maximum page speed performance for both desktop and mobile environments; ensuring URLs are well formatted which are backed up with accurate internal linking structures is key when developing organic rankings.
Monitor changes trend trends & algorithm updates
As ranking algorithms evolve over time metarobots tag settings must be monitored on a regular basis this helps scan when changes occur due high volume seasonal demand periods or popular events.; digital marketers must remain keenly aware of new developments such as artificial intelligence (AI). Updates like this require timely responses; so it is important that strategies keep pace with ever developing trends.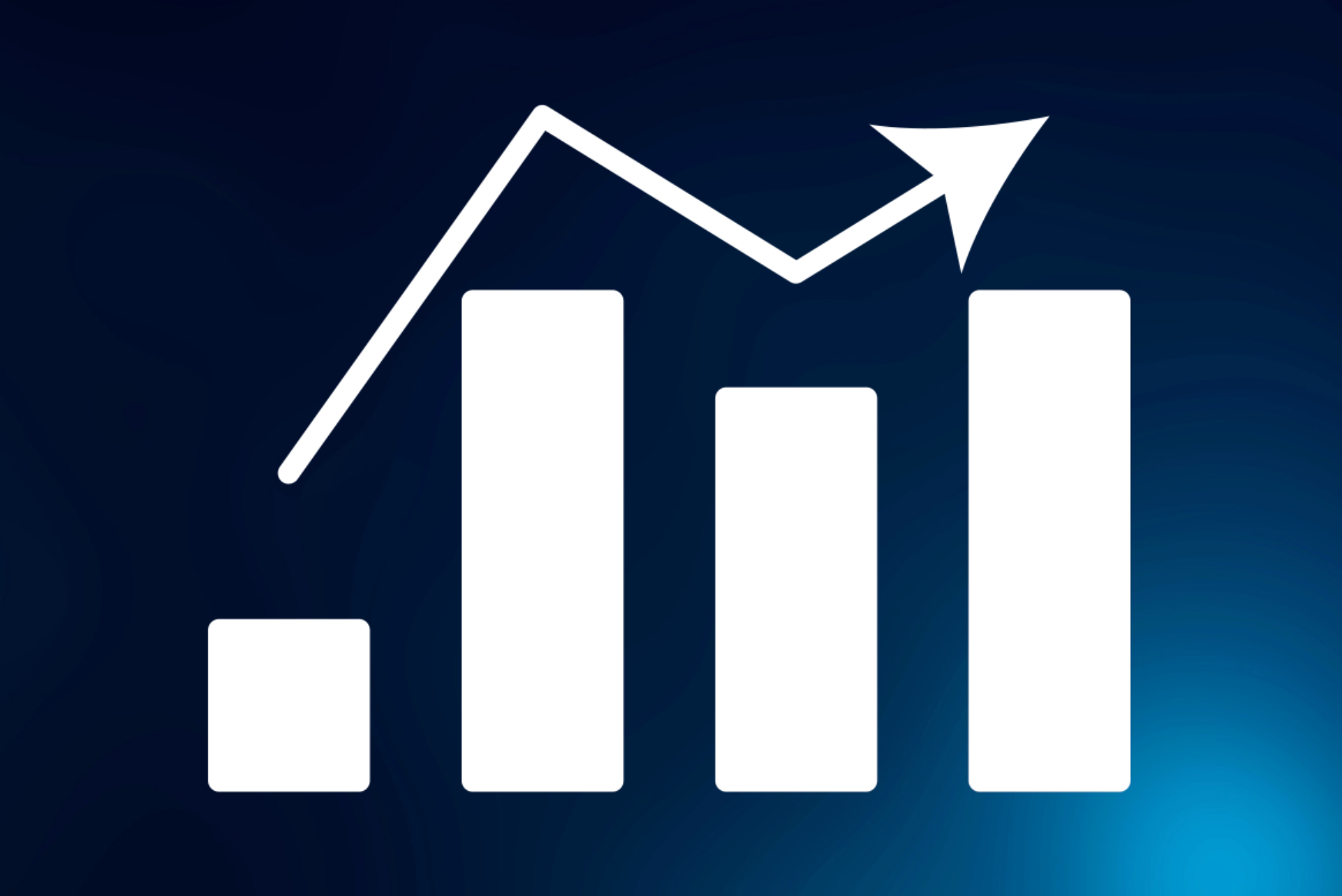 Measuring The Success of Enterprise SEO
When considering investing in SEO solutions, it is important to evaluate not only the initial cost of investment, but also what metrics might be used to measure ROI.
When measuring success, there are a few data points that can help determine whether or not an enterprise SEO solution is delivering value.
The overall goal should be to achieve a better ranking for key phrases that are relevant to your business, increased traffic from organic sources, improved website engagement levels and ultimately increased revenue.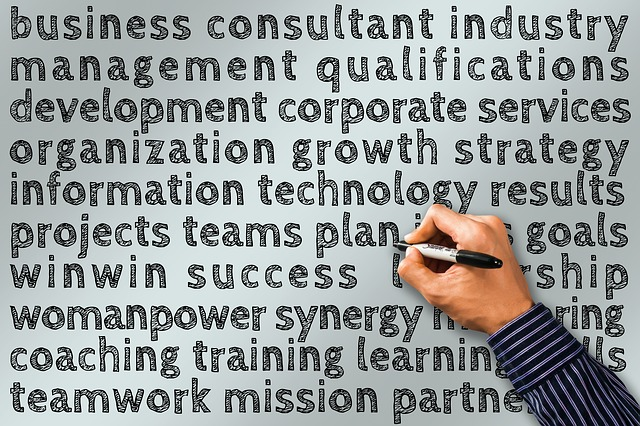 Keyword tracking
First and foremost, it is essential to understand which keywords or phrases you want to rank for and then set up tracking metrics related to those keywords.
For example, tracking keyword performance can include comparing impressions with total clicks as well as monitoring how long users stay on site when they arrive through organic searches.
This will help identify opportunities for improvement or refinement in specific areas of focus related to keyword optimization.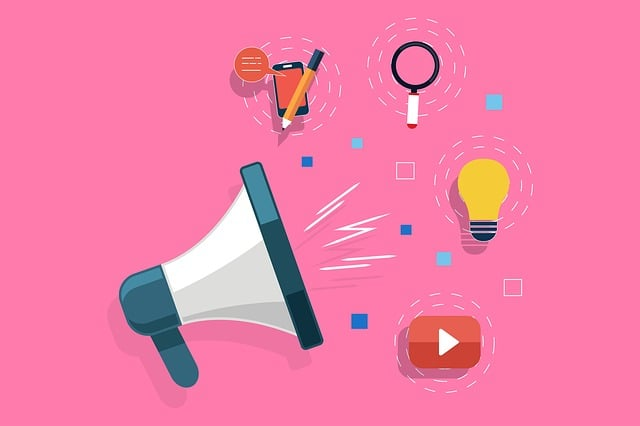 Different traffic channels
Additionally, changes in website traffic due to organic sources should be tracked over time in order to see the impact of implementing certain strategies or tactics with your enterprise SEO solution.
It is essential that these tests are done across digital channels such as webpages and social media platforms simultaneously as this allows for improved analysis of overall performance.
Overall growth in revenue generated from traffic serves as another indicator for whether or not an enterprise SEO program has been effective; again this should be looked at over time and across multiple digital channels whenever possible in order track long-term ROI related improvements rather than short-term gains.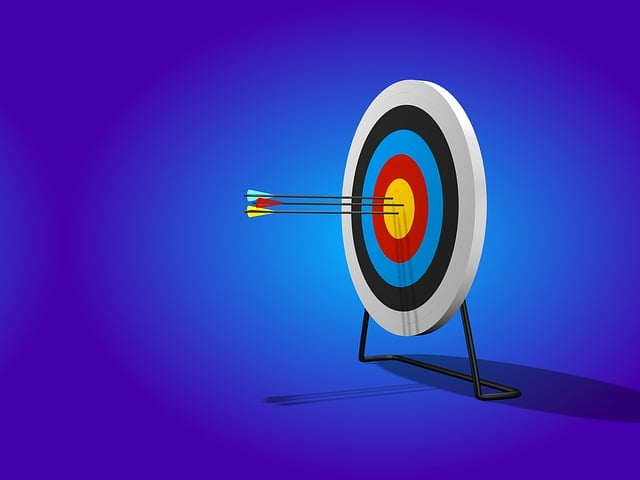 Set goals
By setting up meaningful goals prior to investing in an enterprise SEO solution and measuring outcomes against them regularly it will be much easier determine whether or not it has been worth the cost – both financially and also other resources such as time invested by employees involved with managing the process.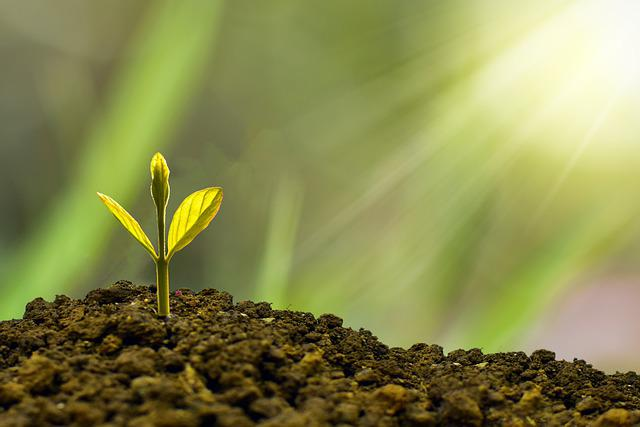 Why Should I Invest in Enterprise SEO?
An Enterprise SEO platform can automate and quickly streamline many crucial SEO elements throughout a company's digital marketing efforts such as content duplication detection, analytics integration with Google Search Console or Google Analytics data collection alongside best practices.
Manage Teams More Efficiently
Not only that, but it allows enterprise SEO agencies to effectively manage their teams and prioritize critical tasks first.
Most common Enterprise SEO experience involves the configuration and management of customizable dashboards offering cross-team visibility for every user in view of performance and measurements criteria for helps enterprises track key projects in real-time.
Invest In New Technology
Besides these traditional tools, both a large enterprise and an SEO company will invest in incremental technology stack such as machine learning processes and artificial intelligence endpoints in order to create sophisticated reports' relying on large data sets and enough computing power.
Generate More Targeted Traffic
Ultimately an effective custom made SEO strategy tailored for each enterprise brand will generate more targeted traffic from their targeted keywords helping achieve desired long-term sales objectives that reflect returns on investments made by the business units towards their SEO efforts.
The complex planning process that takes place throughout an individual site or an entire corporate network allows to create high value webpages indexed by different search engines into valuable search results pages with high quality content.
Technical SEO For Enterprise Websites
Technical SEO refers to the changes necessary to improve a website's technical performance and its ability to be indexed by search engines. It is essential for Enterprise sites, as it involves certain activities required to ensure that search engines can access and understand the large volumes of content included in these sites.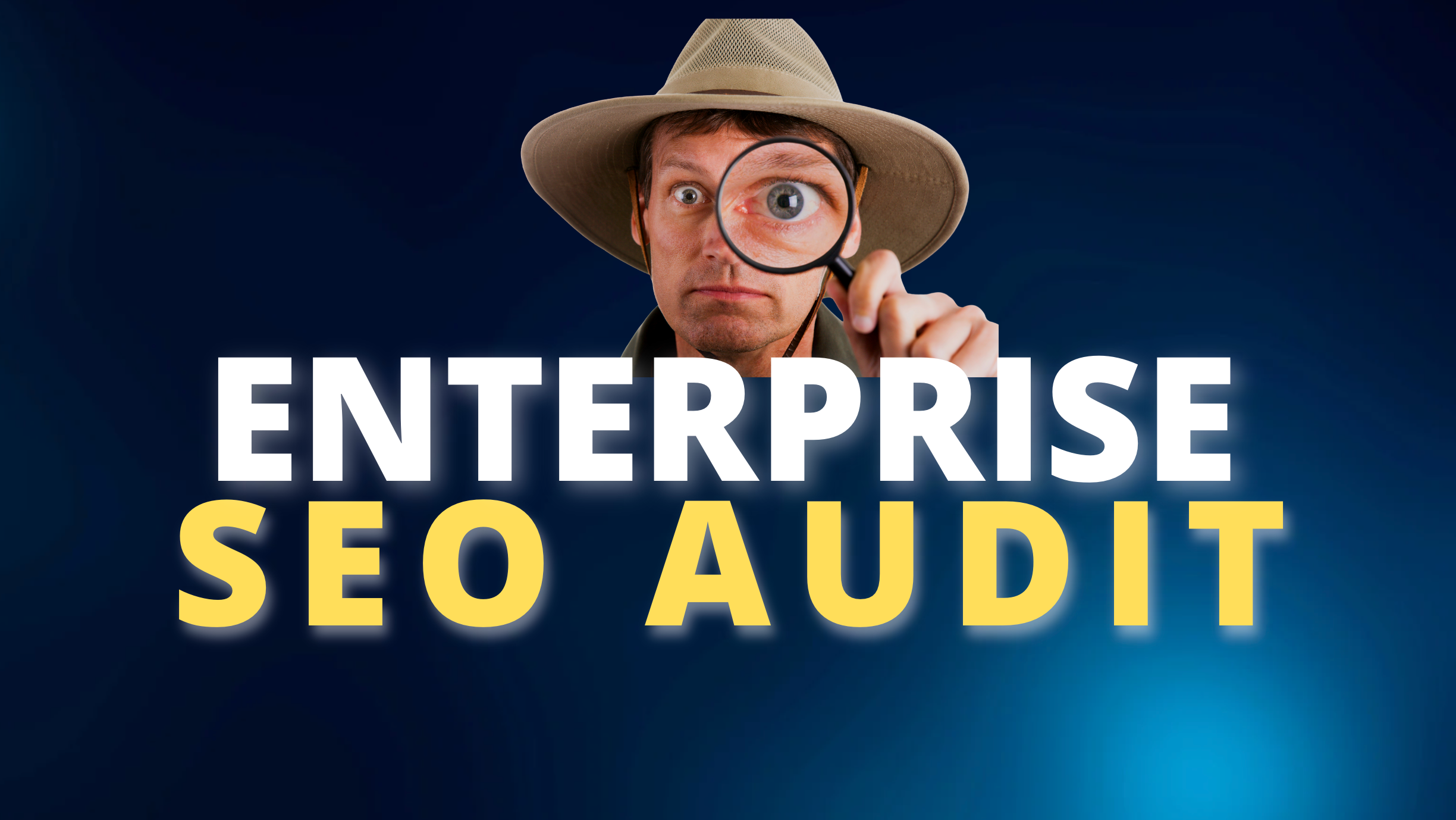 Enterprise SEO Audit
An Enterprise SEO audit can ensure that search engine crawlers have an easy time crawling and indexing your enterprise site's millions of pages, ensuring that your content appears high in relevant search results.
This audit should focus on identifying issues related to page speed, https usage, metadata optimization, obsolete HTML tags, clean coding standards, broken links and redirects, orphaned pages and structured data implementation for improved visibility.
As such, technical aspects of SEO play a pivotal role in improving visibility due to its impact on crawlability and other important ranking factors like page speed and implementing schema markup solving duplicate content issues.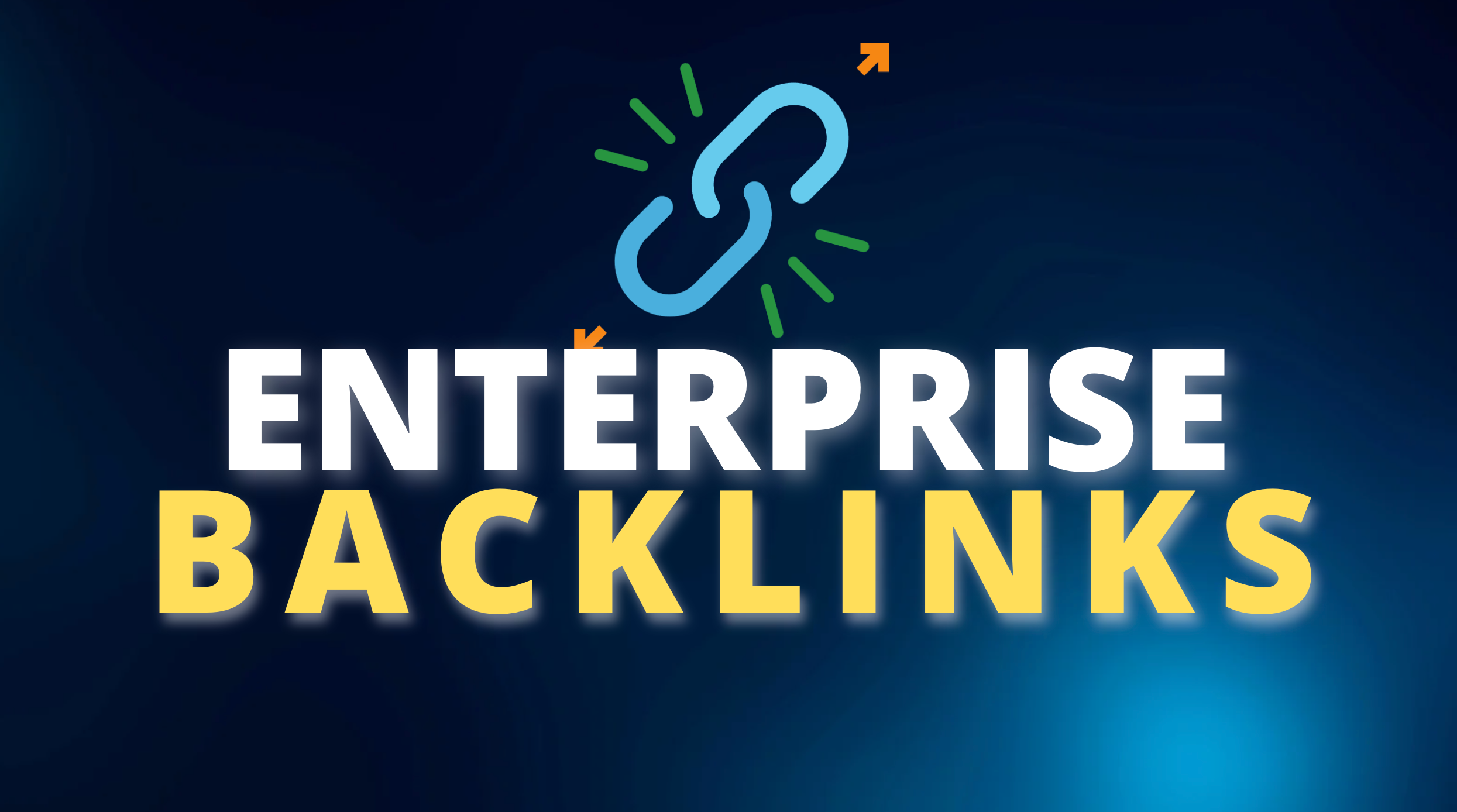 Link Building and Organic Traffic For Enterprise SEO
Link Building is one of the most important aspects of enterprise SEO for establishing domain authority.
Quality backlinks are essential for enterprise SEO success and involve identifying, prioritizing, and targeting high-quality sites or content that have a natural link profile or have potential to acquire links.
Content creation should focus not only on optimizing for keywords, but also on combining it with other elements such as user intent, relevancy of topic, user experience, and quality of resources to create highly valuable pages for users.
To ensure successful execution of any enterprise SEO strategy – from keyword research to web development teams – understanding how each process works together is key for search success.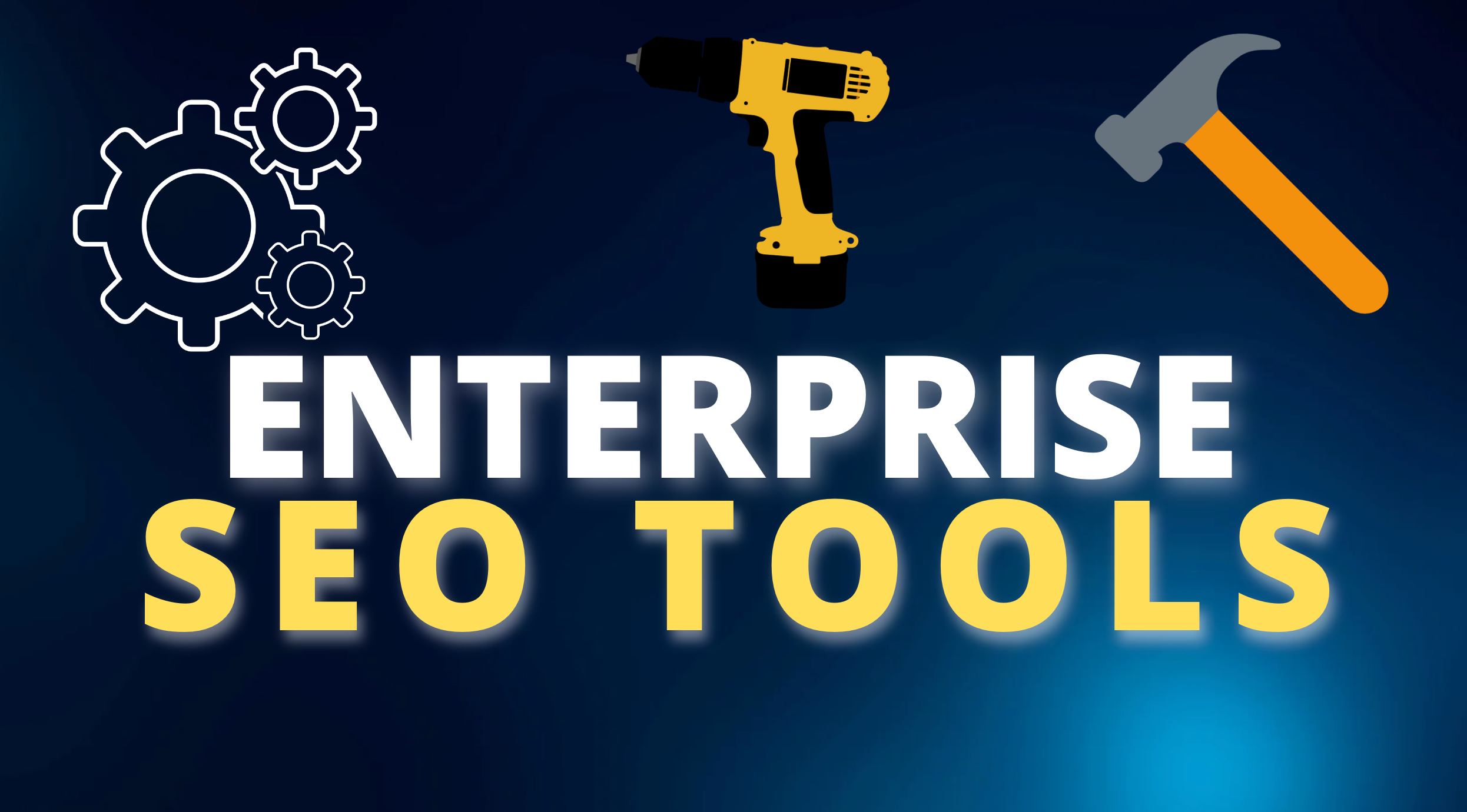 Enterprise SEO Tools
Enterprise SEO tools are designed to help businesses improve their website's search rankings and drive more organic traffic.

Ahrefs.com: A Comprehensive SEO Toolkit
Ahrefs is a comprehensive SEO toolkit that offers a wide range of features to help grow enterprise websites. From keyword research and analysis to competitor analysis and backlink tracking, Ahrefs has everything you need to take your SEO to the next level.
One of the things that sets Ahrefs apart from other enterprise tools is its ability to provide detailed information about your website's backlinks.
With Ahrefs, you can see exactly where your website's backlinks are coming from, what anchor text they're using, and how they're affecting your website's search rankings.
This information can be extremely valuable in helping you to identify which backlinks are helping your website and which ones may be hurting it.
Another feature that makes Ahrefs stand out is its keyword research tool.
With Ahrefs, you can get a comprehensive overview of the keywords that your website is ranking for, as well as those that your competitors are ranking for. This information can be extremely valuable in helping you to identify opportunities to improve your website's search rankings.
For Enterprise SEO, Ahrefs offers higher tier data plans and increased crawl budgets. This rich pool of data can further facilitate strategic decisions while utilizing advanced SEO techniques.
Enterprises can enjoy building custom dashboards in Google Data Studio. The Enterprise level also allows for higher crawl budgets perfectly suited for larger enterprise sites.
By offering deeper insights into large pools of keyword data, competitor websites, content gap, historical keyword rankings, a capable SEO team can fix what's not working and optimize what is working well.
This is a true game changer when it comes to improving organic search performance efficiently.

Surfer SEO: An AI-Powered SEO Optimization Tool
One where Surfer SEO really shines is its ability to provide recommendations for on-page optimization based on the content of the top-ranking websites for a given keyword.
This information can be extremely valuable in helping you to improve your website's SEO performance and increase its search rankings.
Another feature that makes Surfer SEO stand out is its ability to provide real-time updates on your website's search rankings.
With Surfer SEO, you can see exactly where your website is ranking for each keyword and monitor its progress over time.
This data gives you leverage in identifying which changes are having the greatest impact on your website's search rankings.
Project Management and Performance Measurement for Enterprise SEO Solutions
Project management and performance measurement are essential components to successfully leveraging enterprise SEO solutions. When implementing an enterprise-level SEO program, project managers must be able to coordinate and manage the activities across multiple teams.
They must also ensure that timelines for deliverables are met, resources are used efficiently and that quality standards are maintained throughout the process. Additionally, as a key element of success, performance should be measured in order to assess the ROI of all efforts while continuously improving and optimizing your search engine visibility.
Analyzing results and adjusting strategies based on data is an integral part of managing any project for enterprise SEO solutions. Measuring the performance output of teams along with their effectiveness is a key factor in understanding how successful your organization is within its specific industry or demographic.
This requires an in-depth analysis of website traffic sources, search visibility metrics, goal completions, conversion rates, tracking codes and other meaningful metrics on a regular basis while also checking where improvements can still be made even after initial keyword optimization campaigns have been launched and executed across multiple platforms/sites.
Finally creating meaningful reports that can be used by various stakeholders (external such as clients or internal such as executives) is imperative to ensure monitoring successes achieved by the team along with any lessons learned from the projects indicating areas for improvements or further optimization work needed down the line.
Conclusion
The answer to whether you should invest in enterprise SEO solutions depends on the state of your business's current digital marketing strategy. If you are looking for a way to increase search visibility and improve website ranking, then investing in an enterprise-level SEO strategy is a wise choice.
Not only can it bring considerable growth opportunities through attracting more qualified leads, more customers and increased ROI, but also it gives you access to valuable insights into customer behavior that can be leveraged for informed decision making on target audiences and overall marketing objectives.
Ultimately, if you have the resources available, investing in an enterprise SEO solution will open up exciting new opportunities for your business's online presence. This investment will not just produce short-term benefits but will also help drive long-term growth. In addition to this, it provides access to valuable data that can help optimize future strategies. With enterprise SEO solutions, it is possible to maximize visibility while ensuring long-term success.
Frequently Asked Questions
Q: What is Enterprise SEO?
A: Enterprise SEO is a form of search engine optimization (SEO) that is tailored to large enterprise businesses, with thousands of pages and large enterprise sites.
Q: What makes Enterprise SEO different from traditional SEO?
A: Enterprise SEO is a more comprehensive and strategic approach to SEO. It requires a team of experts with access to historical search data with extensive experience in the SEO industry. Enterprise SEOs effectively use larger sets of data and are involved in more extensive research of keywords, competitive analysis, technical analysis, quality content creation, and other strategies that are geared towards larger enterprise sites for large scale SEO.
Q: How can an Enterprise SEO Solution help my business?
A: An Enterprise SEO Solution can help your business by improving your search engine visibility, increasing traffic, and boosting sales. An Enterprise SEO Solution can also help you create high quality content, optimize web pages for search intent, and create an effective SEO program. An Enterprise SEO Solution can also help you with technical SEO analysis, building backlinks, and other SEO best practices to ensure that your website is performing well and achieving the desired results.